Today's consumers are inundated with marketing-related messages. From print to e-mail to displays to push notifications on social media, marketers are fighting for consumer mindshare. According to a study conducted by Media Dynamics, Inc., consumers are exposed to a very substantial number of advertising impressions. At the same time, however, only a fraction of these messages actually get the consumer engaged. Consider the following statistics:
Average number of advertisement and brand exposures per day per person: 5,000+
Average number of "ads only" that we have some awareness of per day: 86
Average number of "ads only" that actually make an impression (engagement): 12
Marketers realize that a "one size fits all" strategy won't cut it anymore. They want to rise above the noise and create differentiated, customized communications that will help them stand out from their competitors. During its 2016 study on Document Outsourcing Services Expansion, market research firm, InfoTrends surveyed 250 North American Enterprises to better understand executives' plans for breaking through the clutter. Over three-quarters of those surveyed stated that personalization was at the heart of building better customer communications.
Figure 1: How important is the delivery of more personalized print communications to your current strategic planning process?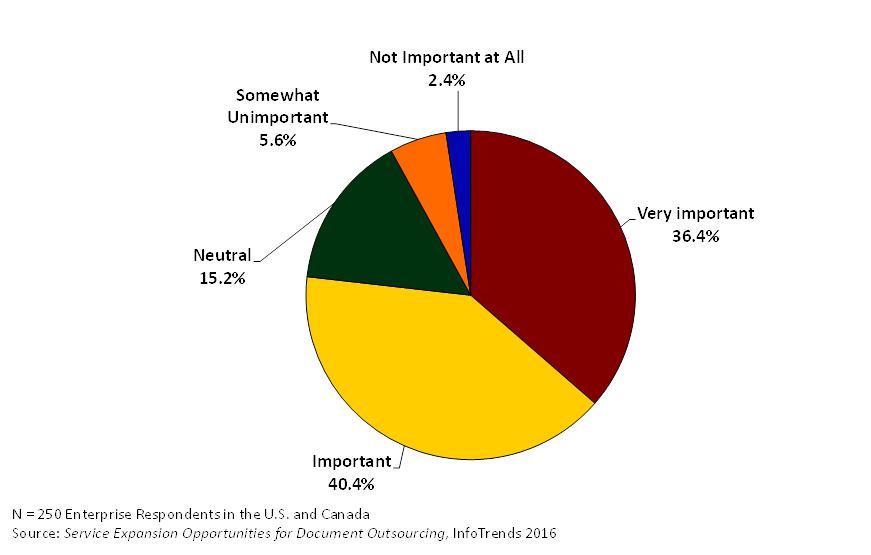 The Personalization Gap
At the end of 2015, InfoTrends conducted a study entitled Micro to Mega: Trends in Business Communications. On average, enterprises were using three channels to communicate with their customers. When asked about the level of personalization, however, only about 28% of communications were personalized at the individual level (one-to-one).
Figure 2: What percentage of your external customer communications or marketing/advertising campaigns fit into the following categories?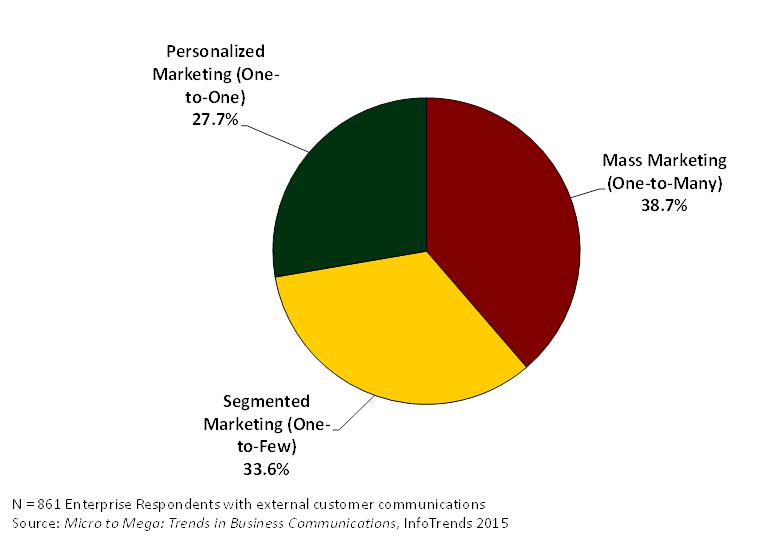 In today's market, segmented or mass communications are inadequate for meeting consumers' expectations. Consumers are seeking offers that are relevant, appropriate, based on real-time actions, easy to respond to, timely, and consistent with communications across other channels.
Further, in 2015, InfoTrends surveyed 900 U.S. consumers in a study entitled Direct Marketing Production Printing & Value-Added Services: A Strategy for Growth. The responses from this research made it clear that personalization makes a difference in consumers' willingness to engage with marketing communications. Unfortunately, there is a gap in frequency—although 84% of respondents indicated that they were more likely to look at a piece of direct mail that was personalized, only 27% felt that they were frequently receiving highly customized direct mail.
Figure 3: There's a Gap in Frequency!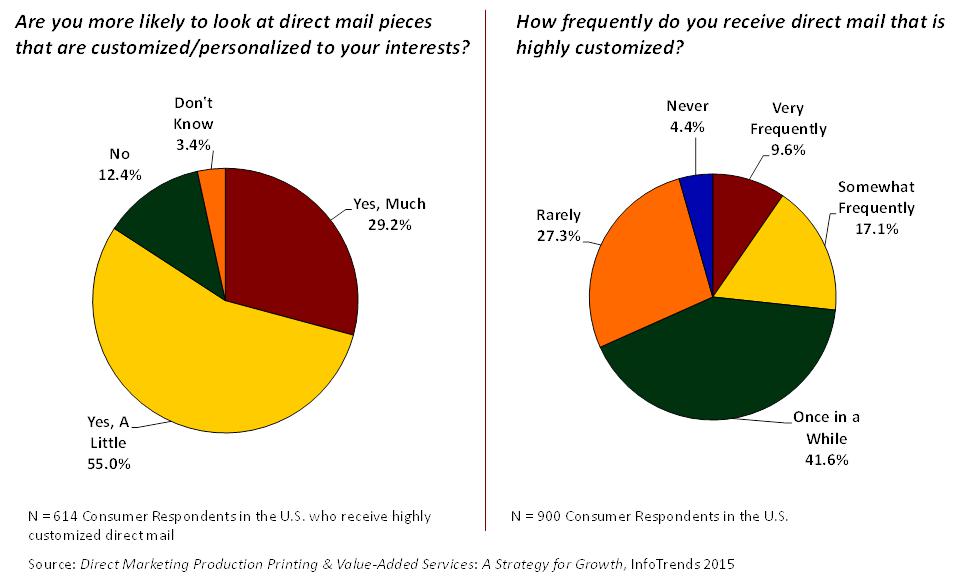 Building a strategy that is predicated on highly personalized communications can carry significant value for marketers and their organizations. In a survey of 1,000 U.S. adults entitled The Consumer Has Spoken, Ipsos Observer highlighted a number of marketing benefits to 1:1 communications:
61% of U.S. consumers feel more positive about a brand when marketing messages are personalized.
44% of consumers are less responsive to non-personalized or "mass-marketing" messages.
53% are more likely to purchase when a brand personalizes digital communications.
52% trust brands that enable consumers to share their marketing preferences more than brands that do not.
The Answer: Data-Driven Marketing
This personalization gap between marketers and consumers represents an important business opportunity for service providers. Marketers clearly acknowledge that they are falling short when it comes to delivering better, more relevant, and timely offers. They need to figure out how to use available data to drive business results. When asked about their key direct mail challenges, direct marketers cited data analytics (specifically predictive modeling, where the communication is focused on the next most likely purchase). These respondents were also challenged with building personalized campaigns from existing data, cleansing their data, and aggregating data from multiple channels.
Figure 4: How much of a challenge do each of the following represent for your direct mail efforts?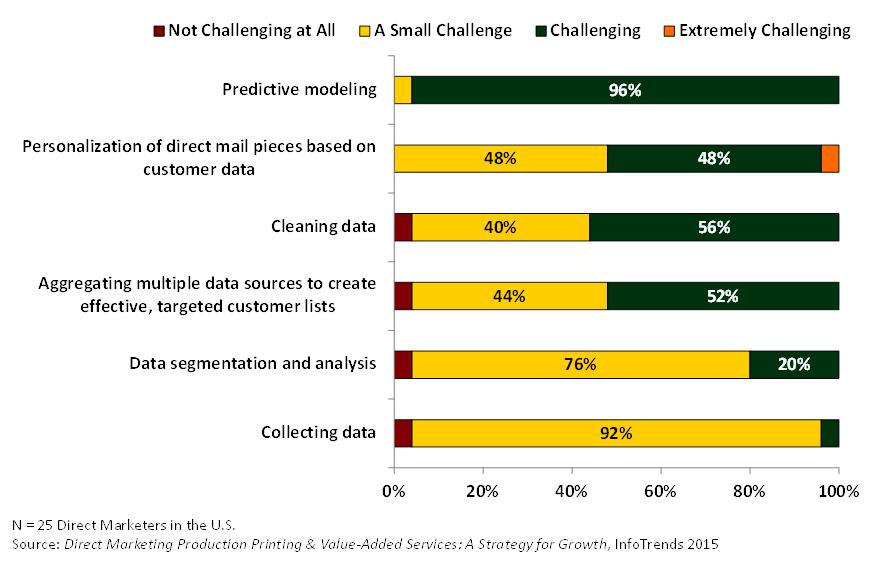 While service providers have historically been good at fundamental data processing capabilities (e.g., mailing list hygiene, NCOA processing, CASS certification/presorting, letter text setup with variable data programming, some custom programming/online proofing), the data game is changing. Savvy service providers are structuring new portfolios of capabilities to participate in a data-driven marketing opportunity with much higher margins. Businesses are investing in skills or establishing partnerships to build out a data-driven services portfolio that can help marketers bridge the personalization gap. It's no longer only about the print associated with variable data-driven applications. Today's emerging portfolios include:
Data audits
List management and purchasing
Audience identification and scope
Data mining
Predictive modeling
Primary and secondary research
Attribution analysis
ROI analysis
The Bottom Line
As we move closer to 2017, service providers will face yet another business evolution. The most profitable service providers will be able to properly define their role in bridging the personalization gap. You must work with clients to understand what data they have, what data they can obtain, or to organize their data, and most importantly how to activate their data to propel their businesses into the future.