Direct mail is one of the most powerful ways to communicate with current customers, especially when it comes to new customer acquisition and reactivating dormant accounts.  One of the most significant portions of the overall expense of any direct mail program is the mailing costs, specifically postage.  Paying attention to the USPS promotional calendar can result in significant savings without reducing the effectiveness of the direct mailing.  The USPS's recently announced 2017 Postal Promotions plans will surely help deliver more impact for less cost.
The New Promotions
According to the Federal Register, the USPS plans to continue offering five promotions from 2016 with some updates and will also add one more. These promotions take effect on January 1, 2017, so you have plenty of time to prepare your strategy.
Here is a summary of the five promotions USPS is planning and their timeframes:
Earned Value Reply Mail Promotion (January – June 2017)
This promotion offers a $0.05 per piece rebate on all Business Reply Mail, Courtesy Reply Mail, and Alternate Postage pieces that meet program requirements and are placed in the mailstream by the recipient and scanned during the program period. To receive the rebate, registered customers must have distributed a Business Reply Mail, Courtesy Reply Mail envelope, or Alternate Postage card or envelope, and must comply with all other eligibility requirements of the program.
Tactile, Sensory, and Interactive Mail Piece Engagement Promotion (February – July 2017)
Direct mailers that enhance customer engagement via the use of advanced print innovations in paper stocks, substrates, inks, and finishing techniques will be eligible for promotional discounts. Regular and non-profit Standard Mail letters and flats that meet the promotion requirements will be eligible for an upfront 2% postage discount during the promotion period. The optional fifth toner station in some of today's digital production printing presses enables print providers to add spot, flood, or multiple coating layers to printed output to create unique textural effects while also highlighting variable information. White, gold, and silver inks are available to make direct mail pieces pop. Other offline digital enhancement technologies can also give printed communications a unique tactile feel.
Emerging and Advanced Technology Promotion (March – August 2017)
As mobile and print technologies continue to evolve, the USPS believes that mail has the potential to offer greater value by engaging customers across various media. This promotion is designed to encourage direct mailers to explore mail opportunities that incorporate near-field communication (NFC) tags, "enhanced" augmented reality, video in print (ViP), beacon technology, and other developments. This strategy provides substantial advantages for the integration of these innovations in mail pieces now and in the future. Direct mailers that leverage these emerging technologies will receive an upfront 2% discount.
Personalized Color TransPromo Promotion (July – December 2017)
The Personalized Color TransPromo Promotion is intended to encourage producers of bills and statements to send statements that create a greater connection and response from consumers by using personalized color transpromotional messaging. Bills and account statements with four-color process messages receive a 2% postage discount for First Class mail automation letters sent as part of a full-service Intelligent Mail™ barcodes (IMb) mailing during the established program period. The color messaging must be on the bill or statement and must be used for marketing or consumer information purposes.
Mobile Shopping Promotion (August – December 2017)
This promotion is designed to drive online product purchases by putting mobile-optimized promotional offers, coupons, and catalogs into consumers' hands. The U.S. Postal Service's Mobile Shopping Promotion will offer a 2% discount on Standard Mail letters and flats that include, inside or on the mail piece, a mobile barcode or other qualifying technology inside or on the mail piece that facilitates a mobile-optimized shopping experience.
Direct Mail Starter Promotion (May-July 2017)
This new promotion is targeted toward non-profits and commercial organizations that may not be using direct mail at this time. Specifically, small and medium-sized businesses (SMBs) can receive a 5% discount on eligible mail pieces, up to 10,000 pieces per mailer. The postal service offered this promotion in response to feedback from mail service providers that the cost and complexity of participating in postal service promotions is too high for many smaller, less sophisticated business mailers. In an effort to retain the volumes of current small business mailers and attract new mailers, the postal service is introducing a temporary postage discount on mail pieces that contain print-mobile technology (such as a QR code), that when scanned, leads the recipient to a mobile-optimized website. The mail piece must also contain directional copy instructing the recipient on how to scan the barcode and a printed uniform resource locator (i.e., URL address).
Figure 1: Proposed Mailing Promotions Calendar for USPS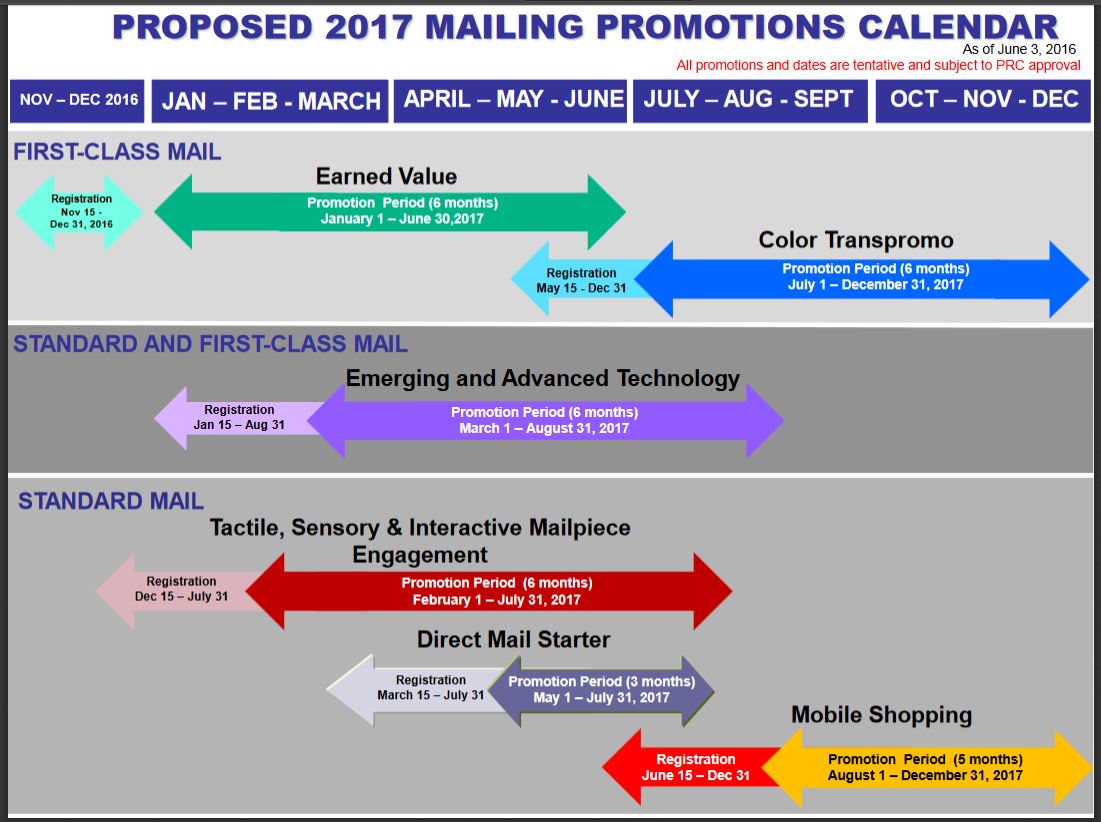 The Bottom Line
Rather than focusing on saving a few pennies on production and squeezing your margins, work to create direct mail that is colorful, personalized, and interactive or leverages emerging technologies. Oversized envelopes with QR codes, NFC tags, and augmented reality can enable direct mail pieces that truly stand out. Focus on the real savings associated with optimizing the latest postal savings and promotions and you'll deliver direct mail that gets noticed!